TM Systems® in a nutshell
TM Systems® is a leading developer and supplier of industrial air, drying and emission control systems. We are setting standards in paper, board, tissue and pulp industries, mechanical wood, energy and bioenergy, mining, metal, food and recycling industries as well as industrial and urban waste and side stream processes when turning waste into a source of energy or commodity with business value. We know how to turn industrial drying processes CO2 negative with zero emissions.
Our technologies and services focus on supporting our customers in significantly reducing their carbon footprint through emission control and energy saving and through accelerating rapid industrial transition from natural gas and other fossil fuels to renewable and clean energy. We simultaneously help customers increase their production efficiency and lower their overall operating costs. Our product portfolio also includes air and drying systems that are necessary to keep industrial processes running.
TM Systems® product and service selections cover practically all industrial air and heat systems for use in a variety of processes and environments, worldwide. Our deliveries range from engineering services to complete turn-key deliveries in both greenfield and rebuild projects and we offer our customers holistic solutions from a single source.
During its 50 years of innovation and excellence, TM Systems® has grown to be a trusted long-term partner to its customers globally.
TM Systems® Code of Conduct illustrates values that guide our operations globally. We also expect our suppliers and other business partners to conform to our Code of Conduct in their dealings with us. TM Systems® pursues to conduct long-term profitable business in an ethical and responsible manner considering economic, human and social, as well as environmental matters throughout the organization.
Please contact us to hear more.
Team
+
The TM Systems® team represents the spirit of our company: driven, committed, and acutely aware of the energy waste we are aiming to stop, and of the climate crisis we need to tackle.
Ability to listen to our customers brings us to the root cause of the problems that our customers are facing in their processes. It has helped our R&D team develop the game changing equipment and technology that we can offer to industries today. Our technology team brings together extensive scientific knowledge and operational experience. The sales and project operation teams manage each project to optimize the delivery and to ensure delivery on-time. The rest of us support the teams to ensure they are well placed to add value to our customers in this fast-developing sector with tightening climate targets.
Our two knowledge centers in Finland and in China complement each other in knowledge and operational excellence. Our team is a combination of profound experience and thinking out of box – a valued group of professionals to support the company's success and to make our customers proud of their investments.
Career in TM Systems®
Would you like to join us and work in a collaborative environment where opportunities are offered, skills are stretched and excellence is rewarded?
Please submit your CV and open application to career@tmsystems.com. Also see the News category for our open positions.
Academic Cooperation
TM Systems® is cooperating with Åbo Akademi, Turku University of Applied Sciences, and Lappeenranta University of Technology. Are you looking for cooperation for your theses related to our technology? Please contact info@tmsystems.com.
CEO
+
Over the past 50 years TM Systems® has successfully established a strong customer base worldwide. We are working with the world's leading companies and we continuously develop our products and operations based on the needs of our global customers in different climates and different industrial sectors.
We are very excited about our two newest products, SuperDryer™ for pulp, fiber and sludge drying and Zero-Ex® for zero airborne emissions. Today's industries struggle with two major problems and our new products fix both of them by minimizing energy and water consumption and simultaneously cutting emissions down to zero.
I am very proud of our global TM Systems® team, our state-of-the-art technology and our game changing innovations.
TM Systems® experts are at your service.
Quality Management
+
TM Systems® quality management system is Lloyd's ISO 9001:2015 certified. Primarily the system helps us deliver high-quality products and services to our customers. In addition, our quality management activities are designed to improve the quality of all our business functions. Performance indicators within quality assurance and organizational management are streamlined and reviewed each fiscal year to ascertain customer satisfaction and operational excellence.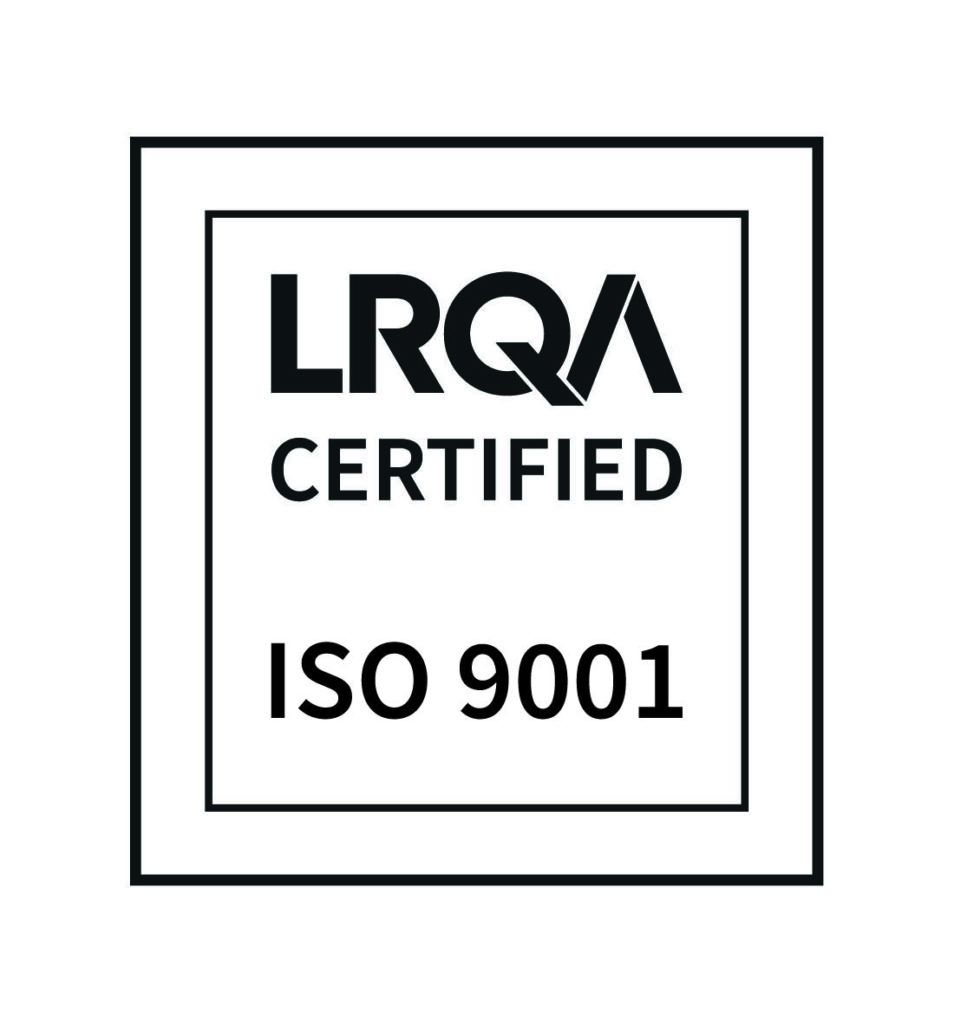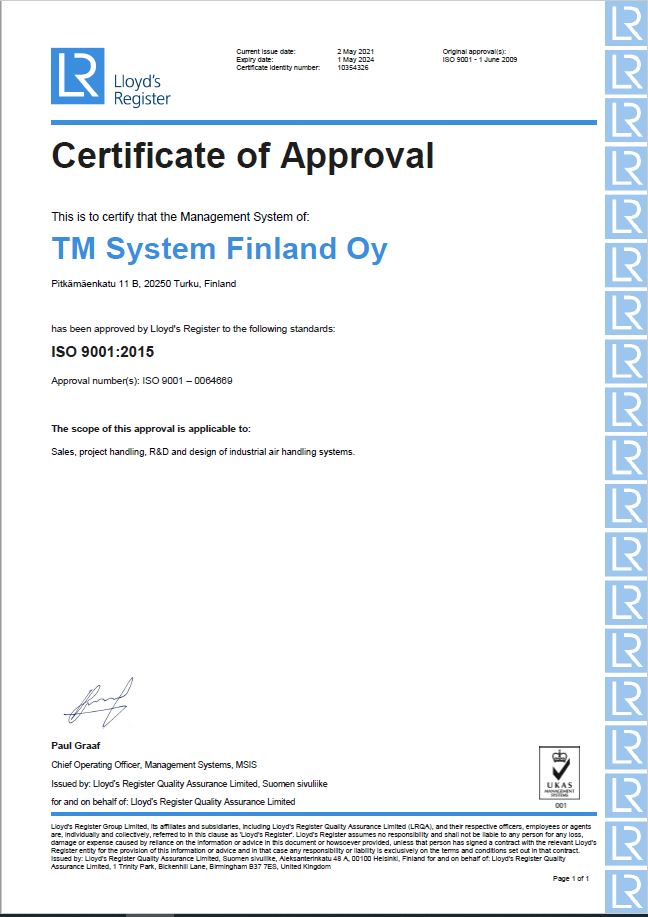 Also the ISO 9001:2015 quality system and the ISO 3834-4 IIW Manufacturer quality system of TM System (China) Air Technology Co., Ltd. are certified.